1967 Rickenbacker 366/12 Convertible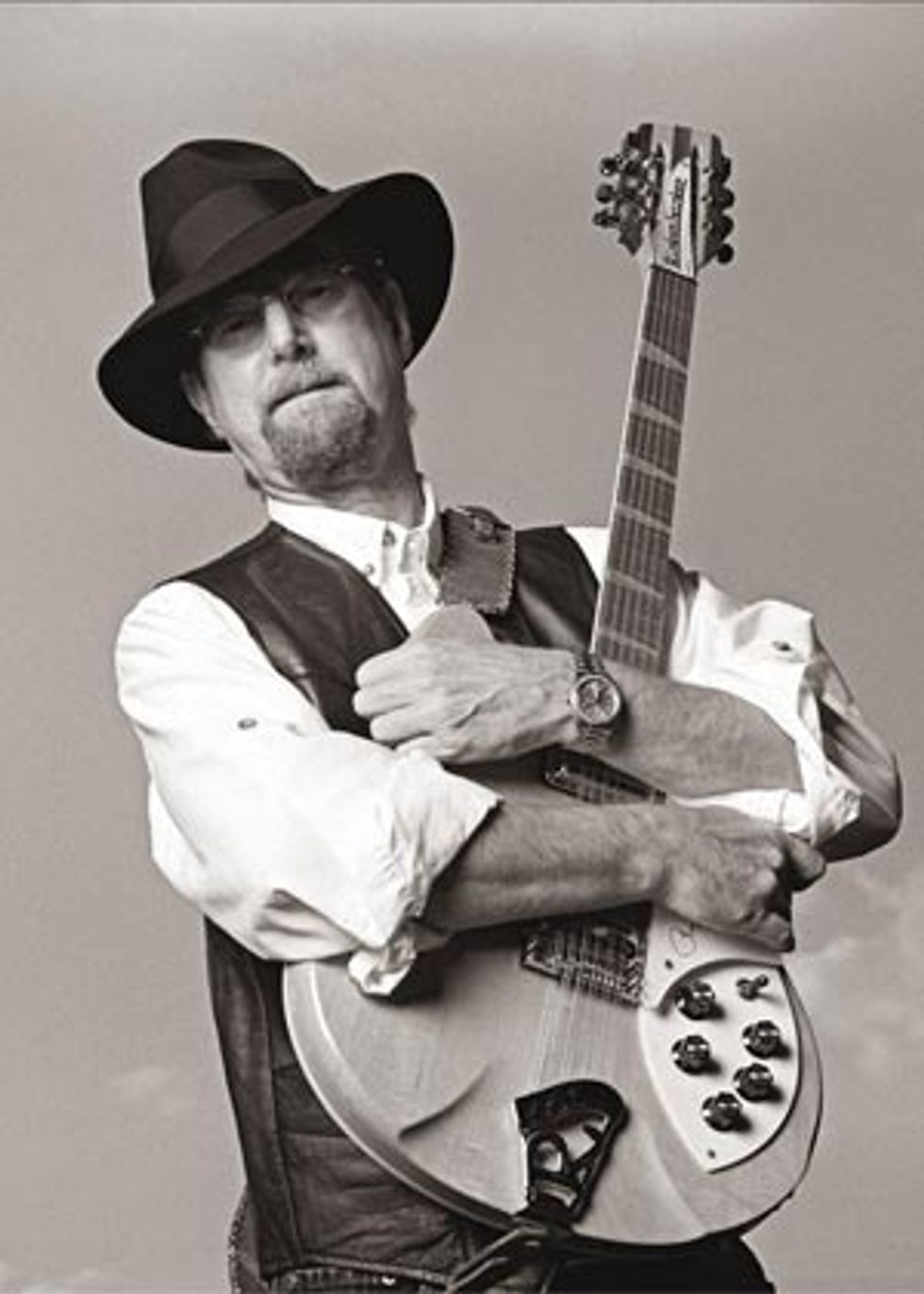 The flattop 12-string guitar was a foundation of the folk music movement of the early '60s, and this inspired Rickenbacker to design and manufacture an electric 12-string in 1963. The 360/12 with its distinctive "ringing" sound, epitomizes the quintessential rock sound of the sixties.
The Rickenbacker 12-string electric became most sought-after because of its association with George Harrison of the Beatles. It was the sonic attention getter that helped many Beatles classics to really pop. This instrument became a key part of the Beatles' sound on their LP "A Hard Day's Night" and other Beatles songs. Harrison played this guitar sporadically throughout the remainder of his life. Through the years a Rickenbacker 360 would appear in the hands of Roger McGuinn of The Byrds, Pete Townshend, Tom Petty and Mike Campbell of The Heartbreakers, Peter Buck of REM and many other notable players. A standard for recording for more than thirty years, its haunting, melodic chorus has continued to benefit from evolution.
The 366/12, introduced in 1966 and discontinued in 1974 is a very rare Byrd! A very limited number of these guitars were made with the "comb" which makes this Rickenbacker 366/12 very unique and collectible. The 366/12 is a twelve string version of the model 360 but with a "comb converter". The main differences between it and a regular 360/12 are the chrome converter comb and the extra pickguard under it, which extends below all 12 strings. This "converter comb" can turn a 12-string into a 6-string (or any number in between). When the converter is engaged, it pulls strings down away from the player's right hand, leaving only the desired number of strings to be picked. Here's a video that I found that explains the way the 366/12 works very well. Check it out...
This 1967 Rickenbacker 366/12 Convertible is finished in Mapleglo. The Mapleglo finish accentuates every little birdseye in the grain of the Maple body. This guitar is in very clean, collectors grade condition. It is all original and beautiful, showing very little wear at all if any at all. This guitar is a blast to play and it sounds fantastic! This guitar weighs 8 lbs. 2 oz. and the thickness of the neck measures .880 at the first fret and .890 at the 12th. It comes complete with the original silver hardshell case. This guitar has all the classic features associated with Rickenbacker models of the '60s. These include a bound maple neck, a gloss-finished rosewood fretboard with large triangle-shaped inlays, two "toaster" single-coil pickups, a maple body with checkerboard binding on the back, a slash soundhole, and an "R" tailpiece. Plus the comb converter and closed-back Kluson tuners. You will love this guitar! Here's another video I found...
Check it out

$4750 includes domestic shipping
Thank you for shopping at Route 66 Classic Guitars!